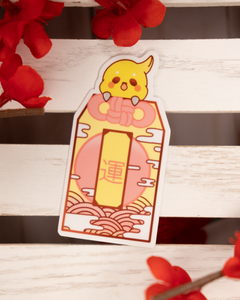 PLEASE READ BEFORE PURCHASING!≧◉ᴥ◉≦
Details:
◆Sticker size is approximately 2 x 3
◆Laminated Sticker
◆Glossy Finish
◆Japanese character for luck
✉︎PLEASE READ THE SHIPPING INFORMATION BEFORE PURCHASING! ✉︎
Products are shipped within 1-3 business days. After items have been shipped the package will take 3-7 postal office business days to arrive at your house. Please note due to Covid-19 AND holidays shipping time may delay.
❢ PLEASE NOTE❢
These are homemade stickers, completely made by us. We print our stickers on premium glossy sticker paper, then we laminate each sticker by hand. After that, we cut it in-house. This means there may be minor differences/defects. Please understand you're buying a handmade product, one made with love, rather than a mass-produced item. Thank you for your understanding.
✘READ REGARDING CANCELATIONS✘
Our cancelation window is 5 hours, this is because we try to get orders out that day OR the following day. This is because we want you to receive your order as fast as possible due to the delays in shipping.
If you have any questions, please feel free to contact us! We are happy to help. ❤
Original artwork by Lucky Cat Market